There is no doubt about it. Riding at a bike park helps level up your skills, confidence, and enjoyment on a mountain bike.
But how is it that it does this really? Today I'm going to answer that question once and for all.
The reasons to go mountain biking at a bike park can be broken down into the following points – now let's break this down further:
Vertical Elevation.
Maximizing descending time.
Numbers of trails.
Trails of every difficulty level
Technical challenges of every kind
Inspiration from other riders
Party laps, oh the party laps
So lets expand on these things…
Are bike parks all about the chairlift?
While some riders do love the challenge of a solid climb to earn their descent, most mountain bikers enjoy an opportunity to get as many lifts to the top of the trails as they can physically withstand in a day!
Bike parks typically have either a dedicated chairlift, or regular shuttling trucks/vans complete with bike trailers, designed to get riders up to the top of the park as fast as possible many times a visit.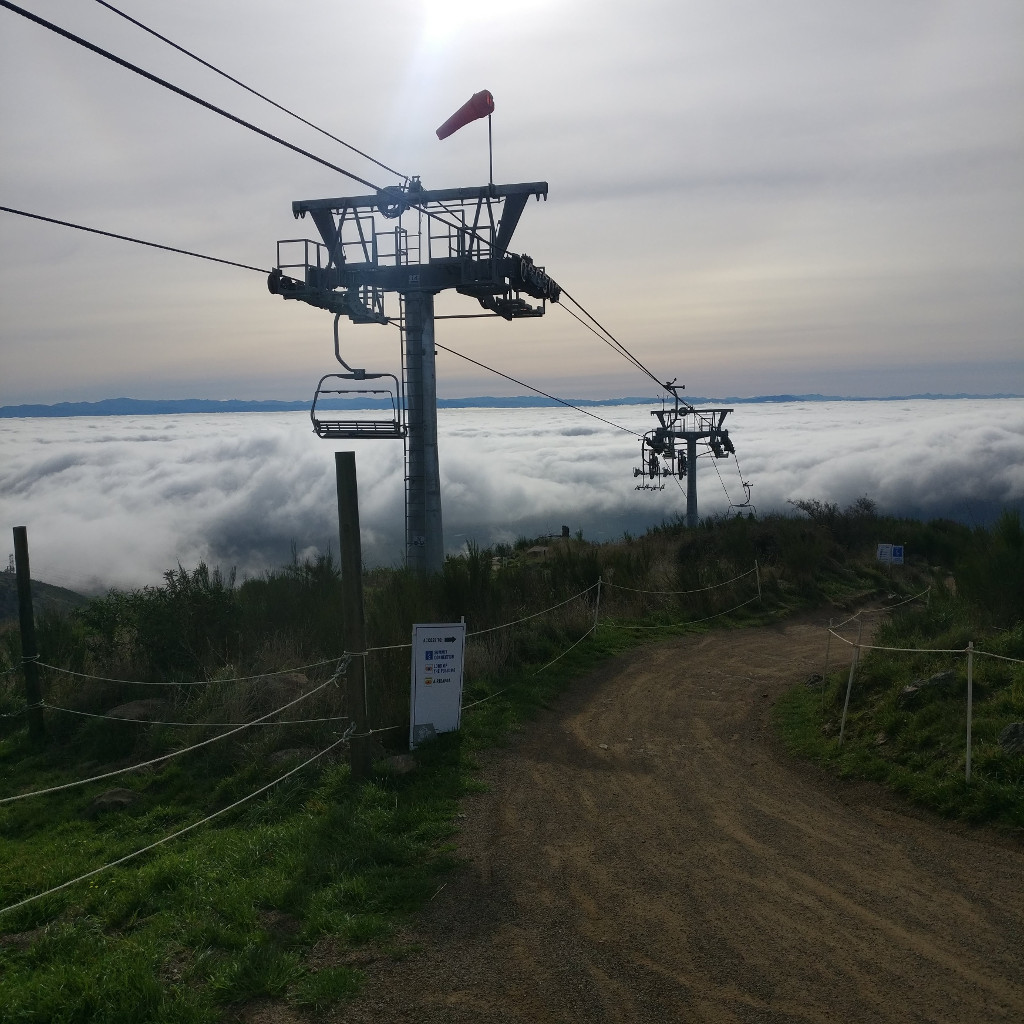 A huge benefit of this is the ability to ride your favorite trails over and over again in a single day – as a result you'll be able to descend a much larger amount of vertical elevation in a day than you would on your usual human powered climbing days on the bike, when you're spinning those pedals to winch your way slowly up a hill or mountain for every hard earned bit of elevation.
So why is the large amount of descending important?
Like any set of skills, mountain biking takes hours of practice and repetition to build up your experience and consequently your ability and confidence.
In a bike park visit you'll be able to descend a huge amount of elevation, and usually it's possible to push the limits of how much your body can take, when you try to smash out more descending than you've ever ridden in a day.
There is no way round it – this repetition and lapping of primarily downhill trails helps build your confidence in your skills, as well as the skills themselves.
In a single visit to a hilly bike park, you could end up descending the equivalent elevation of a towering mountain in a day – pushing your bike handling, speed, courage, and technical riding skills with each run. I know this from experience – for the couple of years that we've had a local chairlift-fed bike park myself and my riding buddies have found our ability on the bike just keep continuously increasing, which is super satisfying.
So many mountain bike trails
Bike parks usually have required a hefty investment from their creators and other parties – and so they are very much looking to put in an awesome range of trails to draw in as many people as possible.
This means that in most parks you'll find a wide range of trails covering beginner green trails right through to double black diamond and pro-lines for the seasoned and fearless!
It is this combination of many trails concentrated into one area, progressively more difficult, and the ability to ride them over and over again in a single day that leads to some real riding skill progression in a short amount of time.
All the mountain biking features in one place
Mountain biking brings with it a pretty gnarly range of technical challenges.
To really enjoy it, ideally you've got to be fit enough to handle the physical nature of throwing a bike around and putting down power to ride up over and down terrain.
You've also got to face your fears at every level of progression.
When you're starting riding that might be just keeping control of a bike as you roll down a hill, or getting around a corner.
But as you progress you'll have new things you'll want to overcome – riding faster, hitting jumps, riding through rock gardens, hitting drops, rock rolls… the list goes on!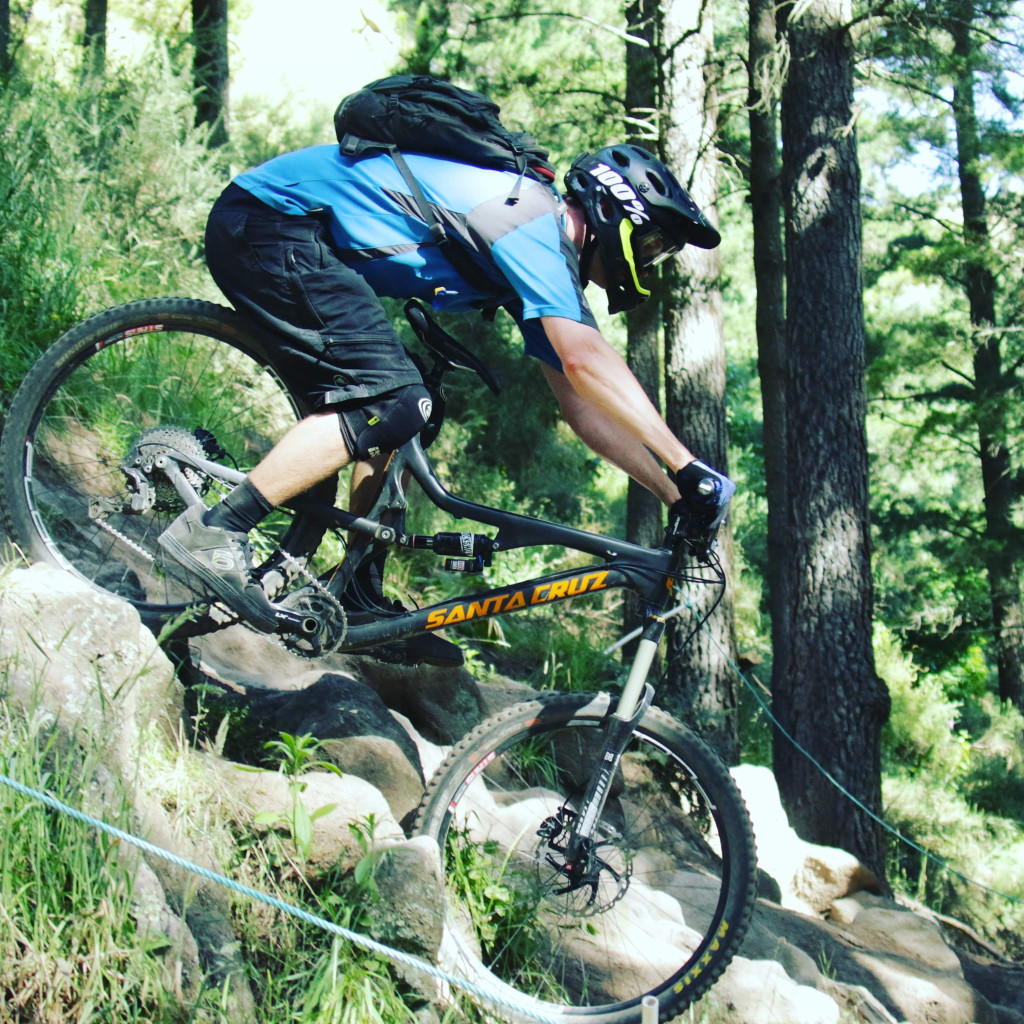 It is this varied and exciting range of features and riding that fuels many mountainbikers obsession with the sport. Looking at a feature that you previously thought was unrideable and now push yourself to conquer for the first time. Getting your head round the challenge, rolling in, pushing that bike out in front of you as you sail off the drop – adrenaline pumping through your veins – wheels touching down and riding away, beyond stoked with what you've just done.
Bike parks often have virtually every type of challenging feature covered in at least one or two of their trails – in some cases, many many more. This allows you to keep pushing your ability with every visit – many people would ride several types of feature they've not experienced before in a single day at a park even with a handful of laps.
Obviously it is influenced by the regions terrain as to what type of features you'll encounter, but it is common to find steep technical chutes and trails, drops, road gaps, tabletop and gap jumps, rockgardens, berms, wallrides, stepups and more.
Inspiration from other riders
Naturally you won't be the only mountain biker at the bike park. Bigger and more established parks can attract a very large number of daily visitors – most of which will be riders.
Every single skill level will be represented, from complete beginners on shiny new bikes, to weekend warriors with every bike and skill level imaginable, to pro riders such as World Cup downhillers either just having fun, or training for their next race.
Most bike parks have a great atmosphere, everyone out enjoying themselves, and you're always sure to see a bunch of riders doing some amazing things on a bike. Often you'll end up on a chairlift or in a shuttle vehicle with strangers and get talking with some of your fellow riders, and it's definitely not unusual for this to lead to riding some laps with other more skilled mountain bikers – and as we all know, this is one of the best ways to become a better rider.
You'll often end up riding behind someone for at least part of a trail, and you'll pick up new riding techniques, learn what speeds and bike position are best suited for features you're about to conquer for the first time, and trails will become more and more enjoyable as your abilities and confidence keep growing.
Party laps, oh the party laps
Mountain biking is one of those sports that can be awesome in so many ways – a solo ride out to a remote location, or a far flung adventure, or a stress erasing after-work ride with mates – or anything in between.
Bike parks lend themselves to groups of friends riding together for hours each day – whether that's a week long trip to Whistler for 5 buddies, or a local bike park that you and your friends hit several times a week.
There is less likelihood that one or all of the squad will be uninspired to go riding without the grueling uphills, and with the promise of endless laps of adrenaline filled, fun banter, and a cold beverage or two to be enjoyed throughout the day.
And ultimately, that is why every mountain biker needs to spend at least some time at a bike park – it will push your limits, make you laugh, get you stoked, and build great friendships with other mountain bikers – our people.