The iBert Safe-T-Seat has been a popular choice of front-mounted child seat for bikes for many years now, but as we quickly discovered it's older design brings with it several drawbacks. Let's take a look at the pros and cons in more detail.
Why use a child seat on your mountain bike?
As an avid mountain biker, I couldn't wait to get our child out on the bike with me as early as possible, to share the experience of nature and freedom with her. I obviously planned to carefully choose some very mellow trails to ride for us to have a great experience without putting her in any danger at a young age.
Should I choose a front mounted or rear mounted seat?
I knew that I wanted a bike seat that was front mounted for a few main reasons:
Improved view and riding experience for our daughter.
Better bike handing characteristics from more central weight distribution than a rear mounted bike seat.
Safer feel with my arms encircling my child when we rode.
For these reasons it was quite clear to me that this style of seat is best suited for a parent who is wanting to take their child out to enjoy a bike ride, rather than simply viewing a bike seat as a utilitarian method of transport – loading them on the back as a passenger to get from A to B for example.
As I would discover from using the iBert bike seat there were actually several other advantages to a front mounted seat – but a few important design flaws left me wondering about alternatives as we'll get into further.
What ages is the iBert Safe-T-Seat useful for?
The iBert is aimed at babies and small toddlers up to 38 pounds / 17 kg in weight.
However weight isn't the only concern, as due to the design you may find as I did that it becomes unusable with a mountain bike before your child reaches that weight due to leg clearance issues under the handlebar.
We started using the iBert seat for our child when she was around 18 months, and she absolutely loved the experience of getting out for a ride – babbling away excitedly pointing left and right off into the forest as we cruised down gentle undulating trail.
While it does provide some back support, and has belt straps to help keep them secure in the bike seat, your child will need to be of an age where they're able to easily hold their head in place as it doesn't have a headrest for them to sink back into – not to mention if you plan to ride on anything more than a sidewalk with them they'll need to be able to cope with a few bumps and jostling from some uneven terrain on even a mellow trail ride.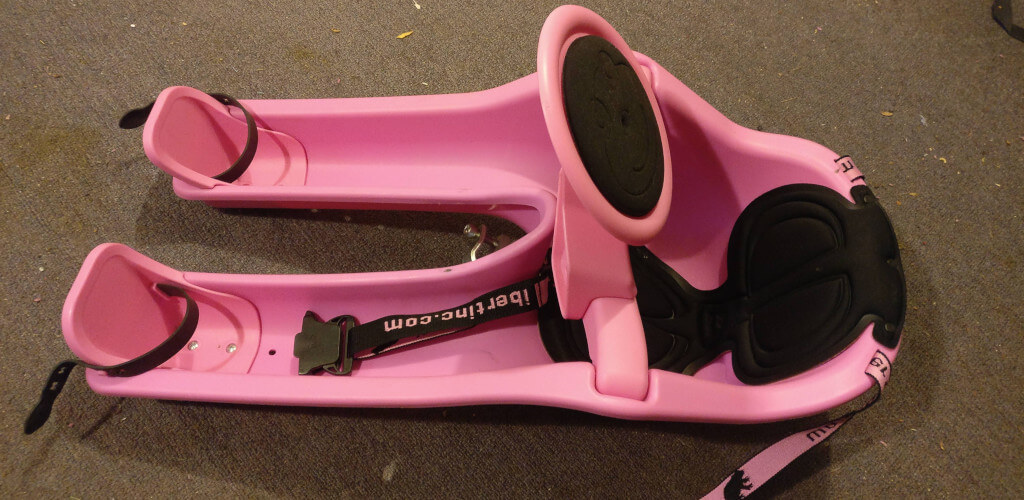 iBert seat mountain bike installation (and problems)
Before we got to our first ride, I needed to install the iBert seat onto my mountain bike.
Now as you'll notice from their imagery on the box and marketing materials, they picture the seat installed on a cheap old cruiser bike that has a long stem, and swept back handle bars.
This is an important factor that I didn't consider before purchasing this seat.
Like many front mounted baby/toddler bike seats, the iBert is designed to clamp onto the spacers around your steerer tube – something to consider if you normally run your handlebars slammed as low as they'll go without spacers underneath them.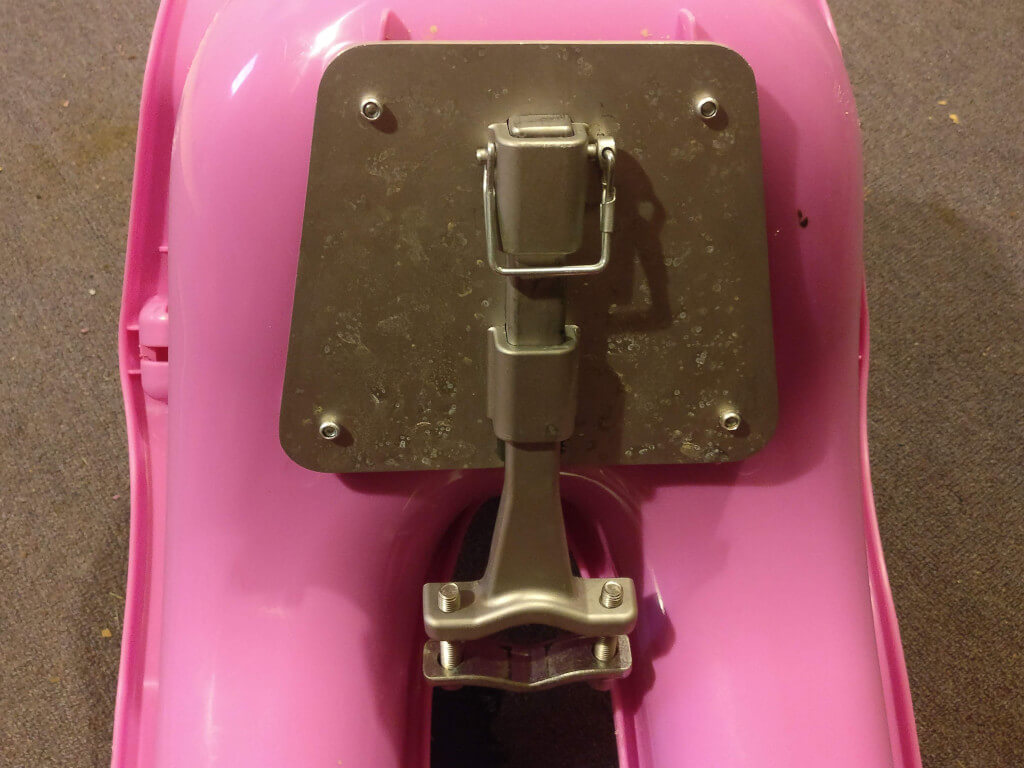 When I came to install it on my (relatively) modern mountain bike, a Santa Cruz Bronson v1 from 2013 with it's 50mm stem and 35mm diameter handlebars, I immediately hit my first issue.
While I was able to move a couple of spacers under the handlebar to give me enough spacer height to clamp the mountain bracket onto, as soon as I then tried to slide the seat onto the metal mount, the sloping high sides of its plastic one piece design made contact with my handle bars.
It was therefore unable to slide far enough forward on the metal mount for me to slide the locking pin through the provided locking hole.
This meant that in it's purchased state, it was not going to be able to be attached to my mountain bike.
It seems to me that as this design is around 10 years old at this point, and perhaps aimed at more casual/cruiser bicycles than mountain bikes (or older mountain bikes with very long stems), it is now a fundamental design flaw making it unsuitable for mountain biking with modern short stems and fat bars.
While usually this might have meant I'd have to return it to the online store I'd purchased it from, we were a couple of days away from our road trip down to beautiful Wanaka here in New Zealand, and I really had my heart set on making this work to get out for a ride with her there.
So, I headed to my trusty bike mechanic where I was getting my mountain bike serviced prior to our trip, and showed him the issue with the seat being unable to attach.
As he had a whole range of metal working tools he was able to drill an additional lockpin hole in the metal mount, which gave me just enough room to attach it, with the leg supports sitting hard up against the handlebars. We were pretty much at the absolute limit of where an additional hole could safely be drilled, so that was the best we could do.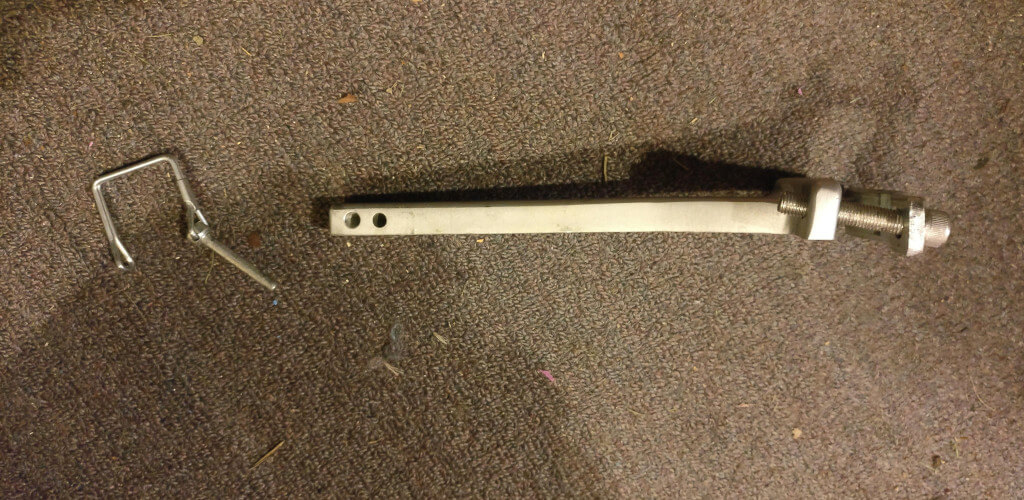 Once that was done, we were in business.
The mount clamped onto the spacers of the steerer tube under the handle bar, the seat was able to slide on to the mount and lock in place – all that remained was to sit my child in the seat (sliding her legs under the handlebars), clip on the shoulder seat belts, and clip down the (optional) lap bar / padded rest platform thing – and we were ready to go.
iBert bike seat ride experience
So, we prepared for our first ride.
As with any child bike seat, we needed to make sure our daughter was wrapped up nice and warm with a couple of layers (as they can get cold easily with the windchill factor – and as they're not peddling keeping warm as you are).
Side note – it can be useful to also get them some gloves to keep their little hands warm too, for the same reason. I couldn't find anything smaller than tiny Giro JR gloves – still far too big for her at that age, so in the meantime we only ventured out on warmer days.
We'd got her a great little Giro JR helmet too, which fit her well. Though naturally I had no intention of putting her in any danger – and if some freak crash were to happen I would happily cocoon her with my body and take any impact or injury myself. That's what dads do.
But regardless, I'd chosen a very mellow undulating trail through a forest with no real obstacles or other speeding mountain bikers to worry about for our first ride.
And so we set off.
She immediately started excitedly pointing out interesting things and wildlife as we rode, and babbling away excitedly at it all.
Because of the front mounted seats position, it made communication pretty easy, as I was able to virtually speak right past her ear, and point things out to her as we approached them. That was the best part of the whole experience for me – the shared experience we were able to have.
The weight distribution of the front mounted seat also meant that the bike felt easy to control, and still very manuverable.
I did find I had to point my knees outwards from either side of the bike more than I usually would, but it still felt quite manageable to ride a basic trail, including all the usual corners, a few small climbs and mellow rolling descents.
At this early age, while she was able to confidentally hold her head up herself, I was always mindful to keep speeds and bumpy trail jostling to a minimum, as of course you don't want your childs head to be whipping around like a bobble head doll as you ride.
One thing to keep in mind is that despite the fact that you're the one powering the bike on your riding adventure, you've got a lot more mass and energy reserves than your child does.
I did notice on those first few rides she would be very animated and talkative/active for much of the start of the ride, and it was then quite apparent when she ran out of steam and might start either leaning on the padded support "wheel" that it has clipped across in front of the child, or slumping quietly in the seat, clearly ready to head home and have a nap.
You do need to be very mindful of this, and you wouldn't want to be out on a long ride far from home base when your child runs out of energy or enthusiasm.
But all in all, we had many really enjoyable rides out with the family with this bike seat – and from a very early age our daughter loved to be a part of it, and still eagerly gathers up her helmet and demands to go for a ride on dads bike.
Pros and Cons of the iBert Safe-T-Seat
Pros:
Front mounted seat.
Good weight distribution as a result.
Easy communication with your child during ride.
Just two bolts to tighten to attach to bike (IF it fits your style of bike as mentioned above!!)
Allows you to take even a baby (who is able to hold their head steady) or small toddler on a bike ride.
Cons:
Design not compatible with modern short-stem mountain bikes without modification!
Two color options available – both quite garish, bright kermit green or neon pink.
Due to design, if your mountain bike handlebars sit flush with top of leg rests (which I think all will if you run a short stem), your toddlers feet, knees, or thighs may run into clearance issues under the handlebars. As she grew we found cramming her legs under the handle bars became impossible, and meant we needed to switch to a different child seat.
Conclusion – would I recommend the iBert seat?
Despite the wonderful memories we've made giving our daughter her first experiences of mountain biking (and proper bikes in general), I just can't recommend this seat to mountain biker parents because of the outdated design, and apparent incompatibility with modern mountain bikes.
If you run a long stem mountain bike (more than 70mm?), or other bike that will provide the extra clearance needed to attach the bike seat to the steerer tube spacers successfully without the main seat colliding with the handlebars, then it could work for you – but I'm sure that there are other front mounted bike seats out there which are more modern and which take into account how mountain bikes are put together these days.
We've now switched to a Kids Ride Shotgun seat, which is awesome (review incoming) – however that seat is designed for older toddlers and young kids who are able to sit on a "normal" bike seat with their feet in stirrups and hold onto the handlebars, so is not suitable for babies and young toddlers who need to be sat in a seat which holds them in place, and secures them via seat belts.
I hope you found this useful, and that you can get out and introduce your child to mountain biking in the near future!