Hitting the trail on your actual bike in reality is best – but naturally our obsession with bikes doesn't end there…
When we can't be out on the bike, we soak up all the great mountain biking entertainment available (and there is a LOT of it!), in the form of YouTube channels, websites, social media and… video games!
There have actually been a few MTB games released over the last decade or more – some better than others, but hey if it enables us to continue immersing ourselves in bikes then it's got to be worth a look right?!
The games:
Descenders
Released on 7 May 2019 for Windows and Xbox One, Descenders is one mountain biking game I've played a fair few hours of, as I bought it on Steam for PC a while back.
Naturally I use an Xbox One controller, and put it on the TV if possible for that big screen immersion.
Riding a mix of different downhill courses at speed, you'll probably find it can be tricky to keep things rubber side down as the courses get progressively more difficult.
The game really focuses on a sense of speed, with a range of high speed downhill trails and big airtime jumps – and a few more technical challenges and features thrown in.
Pros:
Procedurally generated tracks that change.
Decent graphics.
An amping sound track (depending on your taste in music of course!).
Cons:
Strange physics feel (but then capturing the real feel of throwing a mountain bike around a trail in a game is very difficult!)
Despite variation in the autogenerated tracks, they feel quite similar and predictable.
Very slow loading times.
Lonely Mountains Downhill
Released on 23 Oct 2020, this is a cool little indie game I was following the development of for a while before it was released, Lonely Mountains feels very different to most other mountain biking games.
It's got a very chilled nature vibe, with the sound of the wing, rustling trees and animal life taking a centre stage right from the start screen.
They've gone for a cool low-poly style, which actually works really feel – with lots of interesting details in the environment, and character/bike animations.
The trails very soon start throwing alternate lines to choose at you, as well as other trail features like drops and rock rolls.
Crashing is a part of mountain biking as we all know, and that's no exception here – with some pretty bone crunching crashes into rocks and trees recreated in all their glory.
In Lonely Mountains as you progress and unlock new trails you also can upgrade your mountain bike – swapping out the frame, suspension, and wheels. You can also upgrade to different bikes.
It's an interesting game as it blends it's chilled environments, out amongst nature with the time trial aspect of racing to beat your times – and take those strava lines wherever you can to make extra gains!
Pros:
Cool unique low poly style.
Immersive natural world environments
Satisfying sound effects.
Fun challenging trails.
Cons:
The isometric camera view can take some people a bit of getting used to.
For players wanting huge tricks and airtime there is not much of that here.
Bike Unchained 2
This is one that I first heard about while watching Redbull Rampage in 2019 – the announcers were plugging it pretty much every ad break.
It features several of the worlds top downhill and freeride mountain bikers – including Tahnee Seagrave who is your instructor to guide you through the training levels.
Gameplay is very different to the other games we've looked at today, with it being basically "on rails".
You cannot turn left or right, but instead your character follows a predetermined path down the track, and you control things like pumping, jumping, tucking and pedalling on long climbs.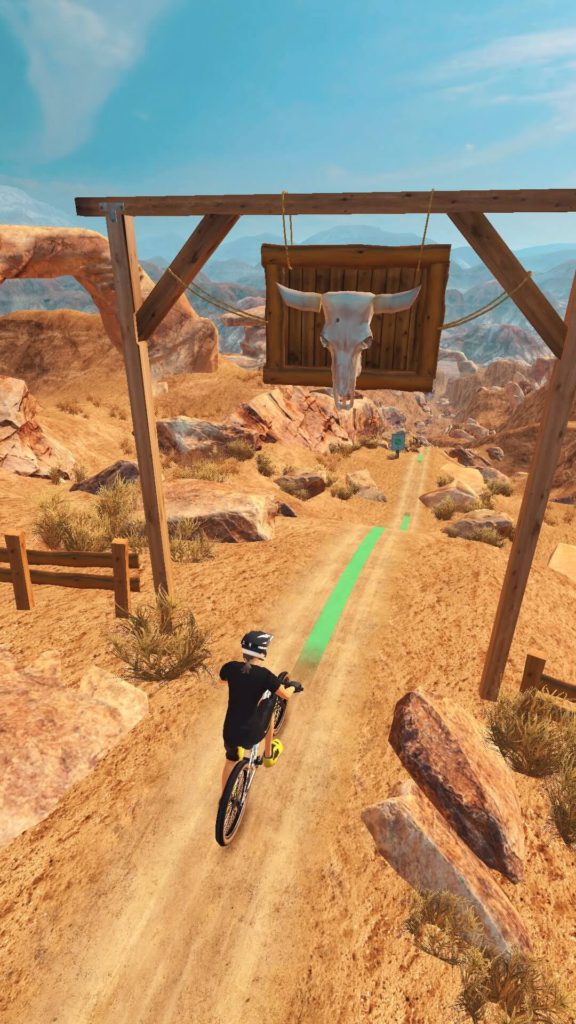 It's quite satisfying to start linking these up, and even more so when racing against other players around the world – as you see them as ghost riders on the same track, hopefully being overtaken by you and left in your dust!
You get unlocks and rewards in the form of sponsor bike parts and frames (from real companies like Transition etc), and the expected mobile game payment methods like gold/gems.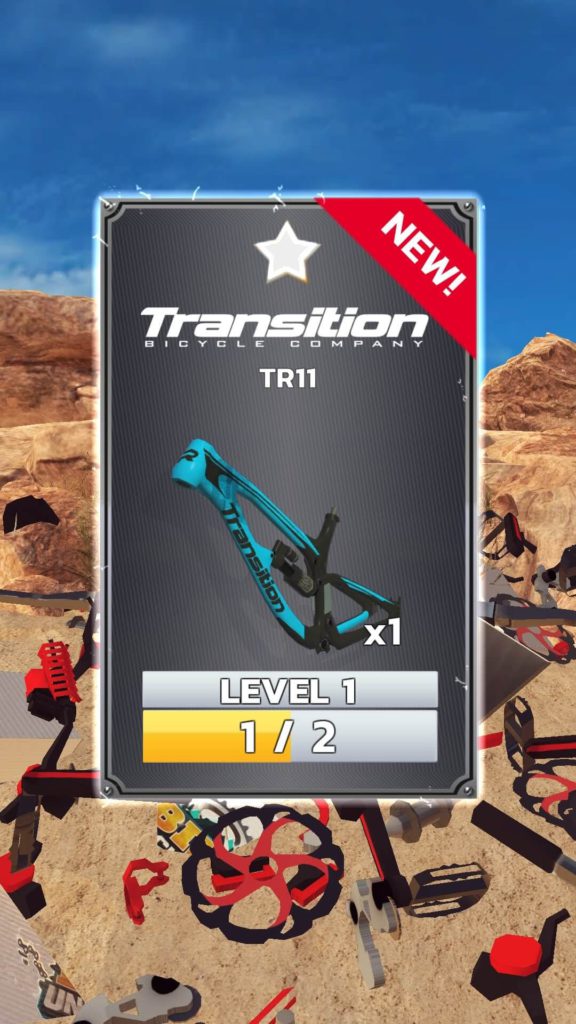 This then leads into optionally paying real money for unlocks in the form of In-App purchases.
Pros:
Realworld downhill and freeride riders starring in game.
Fast multiplayer excitement.
Awesome bike sponsors, and bike bling to drool over.
Satisfying keeping fast flow, linking up doubles and doing tricks.
Cons:
Removing cornering and route selection does remove a big part of what makes mountain biking so fun for a lot of people.
Might get too repetitive?
Shred 2
The only one of these mountain biking games I've not played, this one just jumped out at me as it features Sam Pilgrim doing his characteristic ridiculous tricks (and adding his voice over sound effects and classic reactions along with it!)
I'm sure many of you are familiar with Sam Pilgrims youtube channel which is always a good laugh, as well as featuring some insanely epic riding from our man Sam.
Pros:
Sam Pilgrim. Nuff' said.
Cool soundtrack.
Sweet range of tricks and airtime.
Cons:
Difficulty (some would see this as a pro of course).