Mountain biking shorts are most commonly baggy, knee length, tough wearing shorts, that are intended for use by mountain bikers. The shorts will often have zip pockets to ensure riders don't lose their items while riding. They will sometimes include a padded under-short, which are designed to make hours in the saddle more comfortable.
It might seem like a funny question to those of us who've been mountain biking for many years, but for those thinking about getting into a new sport there are always going to be many questions about all the gear that sport involves.
So lets take a look at one of the main pieces of riding kit – the trusty shorts!
Baggy shorts vs lycra cycling shorts
Okay first things first, what we're referring to here are the baggy knee-length shorts that most mountain bikers wear these days, which are comfortable and practical on the bike, but which also don't look out of place at the burger joint getting your post-ride meal!
When you hear the term, you might have in mind the skin tight lycra cycling shorts (and other apparel) which road cyclists and XC racers often wear.
While those are apparently great at helping keep the rider aerodynamic, and cool by wicking away sweat instantly, they're not my choice for what I'd want to wear on OR off the bike personally.
The baggy shorts which you'll find most mountain bikers wearing at trail centres, bike parks, and wherever else mountain bikers turn up, are in my experience perfect for almost all types of riding – whether its a casual trail ride, an epic all day mission climbing and descending mountain enduro trails, or smashing laps at the bike park for hours.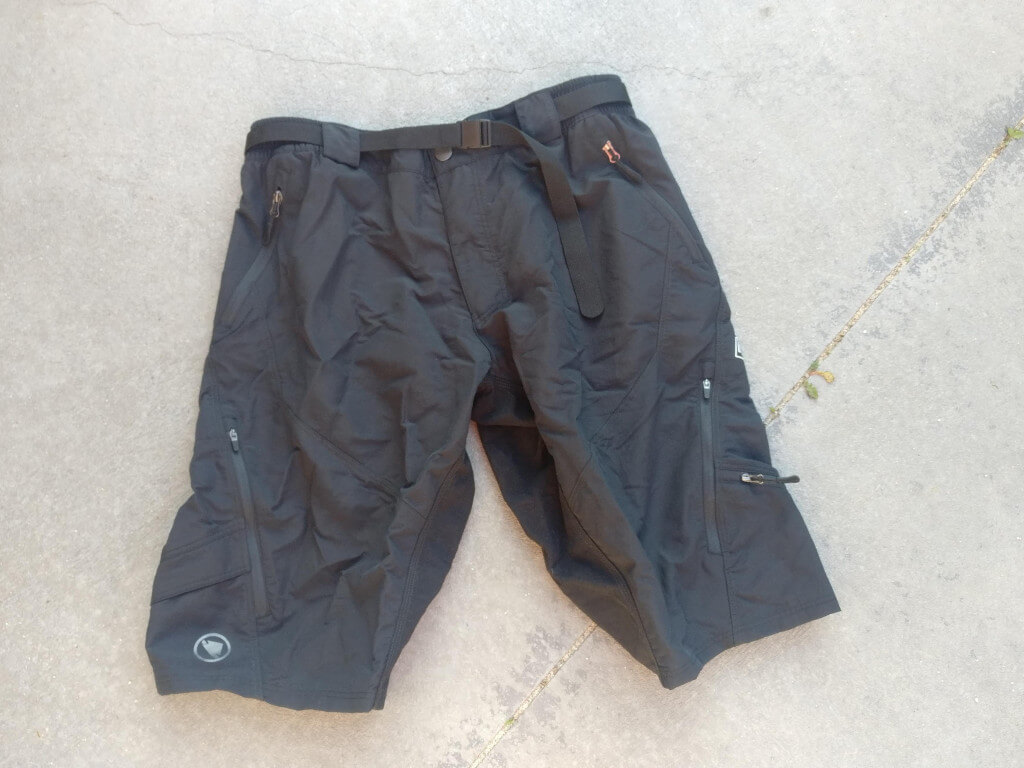 So what makes them "mountain biking shorts"?
You may be wondering, what makes them mountain bike specific? Aren't shorts just shorts?
While their design and features do vary, you'll usually find a few common themes.
They'll be around knee length, which aside from looking pretty decent, means that they'll cover the top of your knee pads (which many mountain bikers wear).
If you're wearing shorter shorts than that with your knee pads you'll not only have the dreaded gap of leg showing between shorts and kneepads (a bit of an in-joke in mountain biker circles!), but you may also having more issues with branches and foliage whipping at your legs while riding overgrown trails, which is entirely possible to draw blood – not to mention an increased danger from ticks if you have them in your location.
Mountain biking shorts will also usually try and strike a balance between remaining breathable to keep the rider cool, and being as tear-resistant as possible.
In terms of the breathability, mountain biking is a sweaty sport – your legs are going to be powering you up and down trails, so keeping a good breeze going is always helpful to keep cool.
But as mentioned, the last thing we want is for the shorts to tear themselves to pieces in your first crash!
And yes, I say first crash, as there will be many crashes (for all but the most cautious of mountain bikers anyway)!
We need our mountain biking gear to be able to cope with crashing and sliding down a bank, or skidding onto gravel, clipping a tree, or getting snagged by branches as we fly down a trail.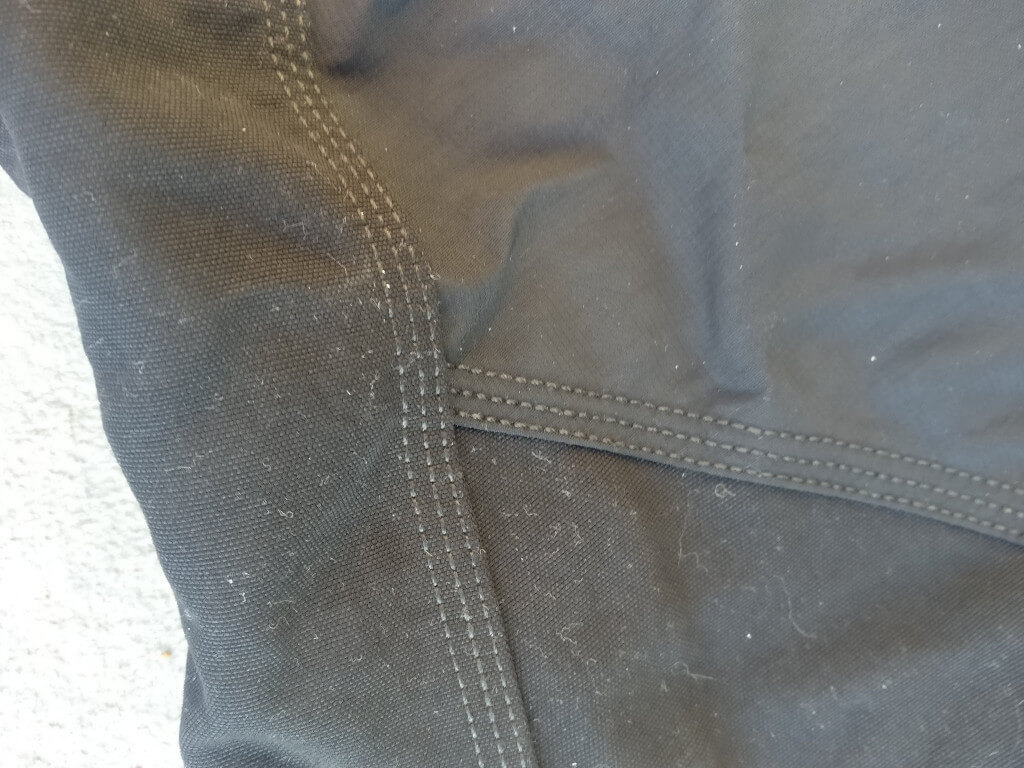 Some MTB shorts definitely do a better job at this, however usually at a cost of reduced breathability – and therefore the rider will get quite a bit hotter, especially when riding in a hot climate.
Very often mountain biking shorts will also feature a belt in their design, that can allow you to really make sure your shorts are firmly kept in place. This is important when riding aggressively down trails, and also riding dangerous trail features or terrain.
The last thing you want to happen is for some wardrobe malfunction to cause you to get snagged on your bike seat and be unable to change your body position towards the front or rear of the bike for example.
On some gnarly trails that could be all it takes for a bad crash or injury to happen. So, riders are understandably particular about how they want their riding apparel, including shorts, to fit – and stay in place!
What about all the pockets?!
There are all sorts of designs and brands of mountain bike shorts, but you'll see that many have a multitude of pockets on them.
Firstly, a lot of riders prefer not to have to wear a backpack, or even hip-pack, and so anything they're needing to take with them riding needs to be stored in their pockets.
Keys, wallet, phone might spring to mind – but there might also be energy bars, multi-tool, puncture kits, maps, gloves, and any number of other tools or supplies.
A personal gripe of mine is when shorts don't have zip pockets on them – though thankfully many do.
The last thing I want to have to even think about is whether or not all my belongings are even still in my pockets, while I'm having a great day out on the trails.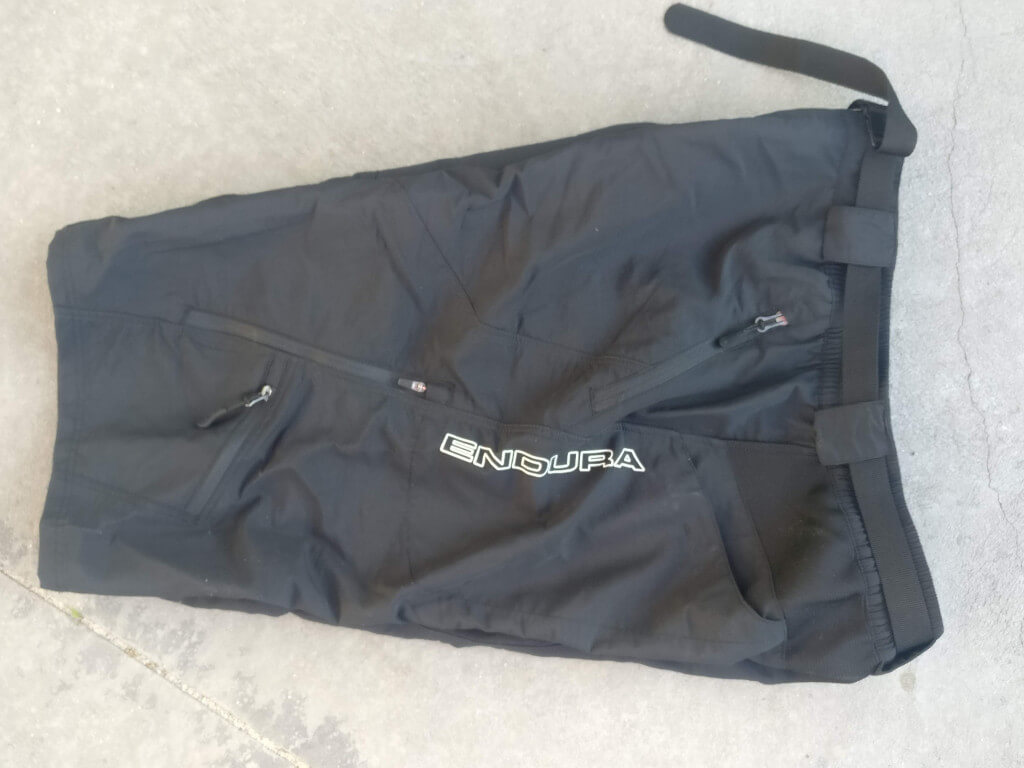 I'd much rather chuck in a few things to my pockets, zip em up, and hit the trail – being able to concentrate on my riding!
Some other designs use velcro to achieve the same thing – and others just rely on the pockets being very deep.
You'll often also see large pockets on the back of the shorts, or on various low side locations – these are to allow you to choose a pocket to stash things that best suits its size and shape (and possibly fragility?!)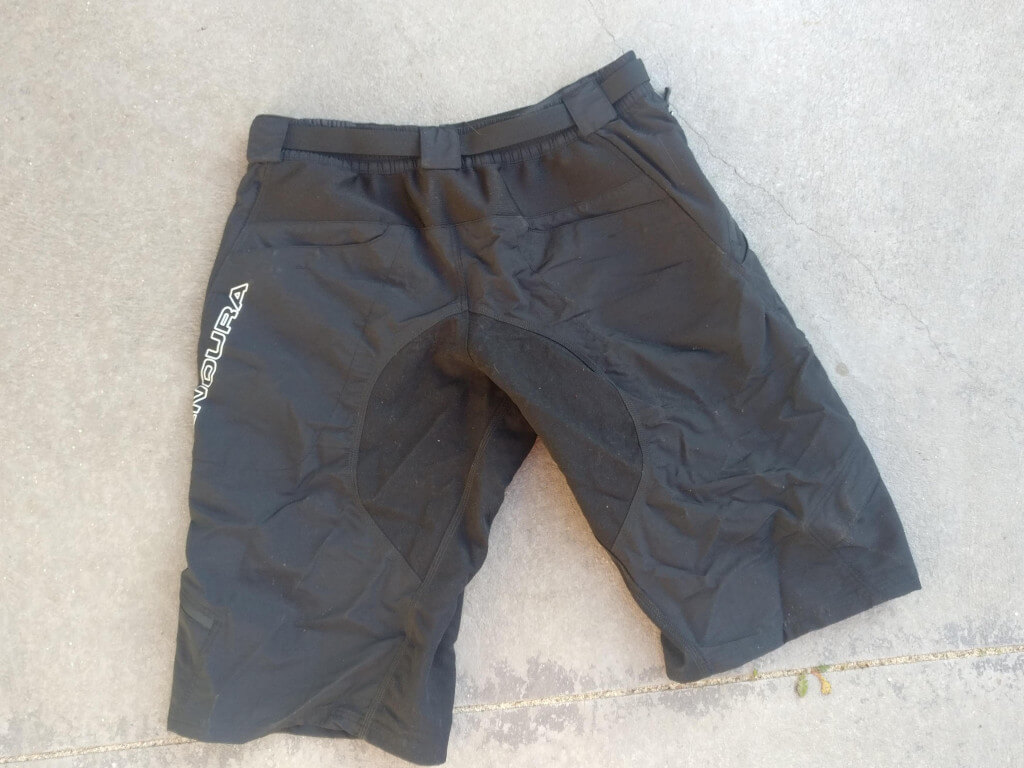 As an example you might not want your keys in your pocket with your phone just walking down the street due to potential for scratching – but if you're going out riding the trails for a few hours, forget it – you'll destroy your phone in no time at all if you do that! There is so much movement involved.
And some items are best stored off to the side, or back underneath your legs, rather than in front pockets due to the weight or shape of them meaning they just sit more comfortably that way when you're in your various body positions while riding.
So what about padded inner shorts? What's the deal with those?
These are basically providing the same benefits as padded lycra cycle shorts in that they can help wick away sweat, and perhaps more importantly provide a bit of padding for your backside region to more comfortably perch on your bike seat (or saddle as its often called).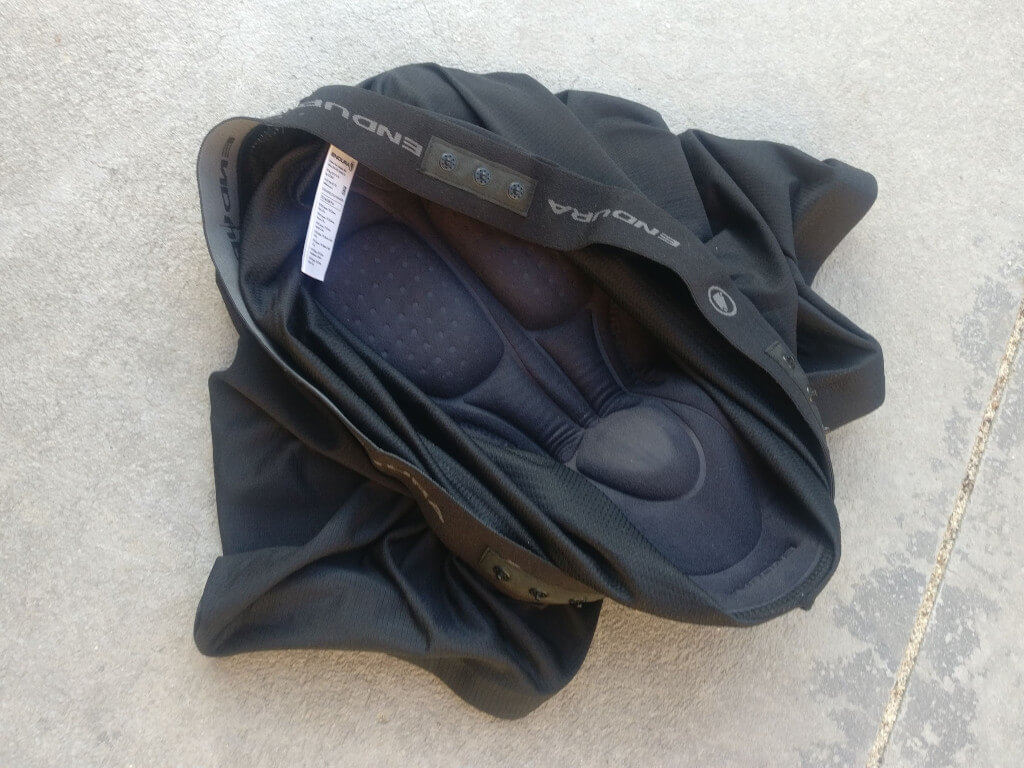 Some people won't ride without them, while some other riders don't like them – either is fine, as long as you're comfortable out on the bike for hours, that's all that matters.
Keep in mind that if you're wanting to wear these, you don't have to buy MTB shorts that include a padded liner short.
You can choose to buy one separately from various brands – and these will usually be of higher quality than the one included. However they will usually also have a higher price tag to match.
And of course one benefit of wearing them under your baggy shorts in my opinion is that you're not grabbing a post-ride beverage with your mates wearing a skintight pair of lycra shorts – which is not my preferred style of clothing personally.
Yes technically they're probably not going to be as effective as wicking away sweat while under your baggy shorts as lycra shorts would be – and you most definitely won't be as aerodynamic if every second on the race clock matters to you, but everyone has different priorities in life I guess.
Summer vs winter shorts
Personally I basically just stick with one type of short year round, and where I live that does mean I'm going through a very wide range of temperatures throughout the year.
It doesn't bother me too much, but you'll always be compromising trying to do it all.
Some riders prefer to have lighter weight more breathable shorts for mountain biking in the summer, and thicker, more water resistant shorts for any winter riding they do.
While they're all pretty much the similar baggy design I've talked about, the summer shorts are just usually a lighter weight material, that is designed to let more air pass through it as you're riding – helping evaporate more sweat in the process, and therefore keeping you cooler on really hot days.
You might pay a slight durability price for some designs there, as lighter material can be easier to rip – but there are some massive (and smaller equally innovative) brands involved in making mountain bike shorts, so there are some pretty great tech fabrics and materials being used, which are both light and rip-resistant and so on.
The winter riding shorts typically are thicker material, designed to be less breezy, and often have water resistant coatings applied – or even water resistant panels of material on the rear to try and spare you a wet backside when riding wetter trails.
There are actually also MTB shorts that bill themselves as purely for extreme wet weather, and are more waterproof than resistant.
Perhaps unsurprisingly some of these are made by Endura, an excellent mountain bike clothing brand originating in Scotland!
While I've always enjoyed my Endura shorts, I've never tried the extreme wet weather ones.
So what are the best mountain biking shorts to get?
I wish it was that simple!
As I've covered there are many different types of MTB shorts, suited to all sorts of different riding styles, climates, storage needs and everything else.
Personally I have pretty much always worn the Endura Hummvee shorts.
I just like how they fit, each pair I've had has lasted many years despite numerous crashes, I find them comfortable to wear year round, and they've got loads of zip and velcro pockets on them.
All boxes ticked for me 🙂
Anyway, I hope you've found this useful, and you can soon get kitted out and hit the trail!