The best cheap chain guide for mountain biking is one which is affordable, lightweight, easy to install, and most importantly will actually stop your chain from dropping. In my experience, that is the OneUp Components Top Chainguide V2, for several reasons.
This is a fantastic little chain guide that is very lightweight at only 35g, really affordable at just USD$49, and takes less than 5 minutes to throw on your bike.
Crucially, it works really well.
I don't think I've dropped my chain once since installing it (I'm running a narrow-wide chainring and Shimano XT shadow plus clutch rear derailleur).
Without it I was dropping my chain once every couple of dozen rides – admittedly with a fairly worn drivetrain.
But still, it's super common for us to wear out our bikes components through frequent riding, so it's a decent example I think.
Today we're going to look at what I've learned to look for in a chain guide over the last 15 years of riding.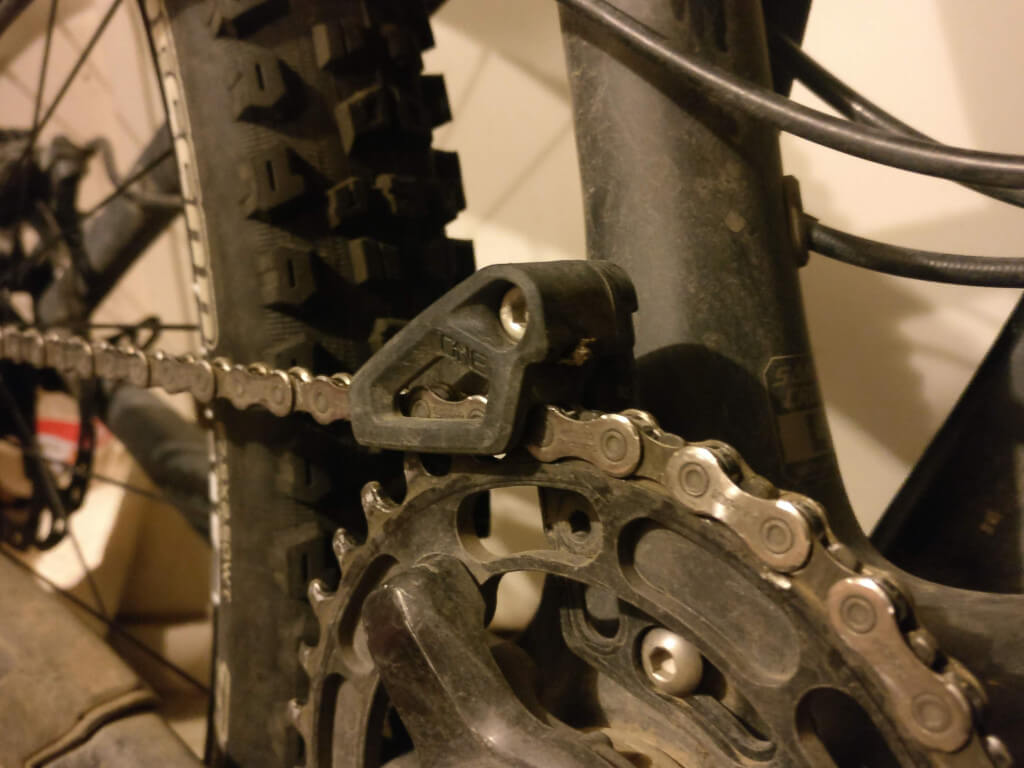 Do I really need a chain guide on my mountain bike?
With all the advancements in mountain biking drivetrain parts over the last few years you might be wondering if you actually even need to get a chain guide in the first place.
It's true that narrow-wide chainrings combined with clutch rear derailleurs and other similar designs from all the main drivetrain part brands have dramatically improved chain retention.
If you haven't yet tried this combination, you're missing out big time. Chain slap is massively reduced, and the likelihood of dropping a chain on very rough trails pretty much goes from very likely down to quite unlikely.
However when you're riding very rough terrain, or certain jarring trail features like rock gardens or drops, it is absolutely still possible to drop your chain – especially if your drivetrain is starting to get a little worn.
It may not be on todays ride, or tomorrow ride – but sooner or later that chain is going to drop. And naturally it is going to be at the worst possible moment!
Ok, maybe that's not guaranteed, but you get my point.
And with how lightweight and affordable the simplest chain guides are, there is no reason not to throw one on your bike in my opinion.
If you're racing at all, it's a complete no-brainer – but it's certainly not just for racers.
I've never raced a day in my life on my mountain bike, yet after fitting a OneUp Components top chain guide and seeing how dependable it has been, I wouldn't go back to not running a chain guide now.
I just want to ride my bike.
I don't want to have to worry about the possibility of losing my chain and falling behind my riding buddies, having to stop and put the chain back on, or worse – lose my chain at some vital moment on the trail and even end up crashing as a result.
There are enough crashes in my mountain bike rides without that being added into the mix!
So, a simple top guide works super well. It's so light and straight forward.
Set and forget.
Total no brainer in my opinion.
What about a bashguard?
This is all going to depend on your preferred type of mountain biking.
If you're regularly crunching your chainring into rocks or logs or other features on super gnarly trails, then sure, a bashguard would probably make sense for you.
Keep in mind that adding a bashguard does significantly increase the weight of the chain guide of course – but if it's going to stop you from destroying your chain/chainring again, then that might be well worth it for you.
Personally while I do ride a lot of pretty gnarly downhill trails, I don't tend to smash the chainring into stuff, so I don't want a bashguard on my bike – and I ride it up hills as well as down, so can do without additional weight!
Can a cheap chain guide really be dependable?
Mountain biking is rarely described as a cheap sport, so you might be wary of a cheap bike part – especially something as vital to function well as a chain guide.
But in my experience, through countless mountain bike rides, careening all over from big mountain riding, to fast singletrack traverses, to hundreds of downhill bike park laps – yes a cheap chain guide can absolutely be dependable.
I haven't dropped a chain once since installing it.
It's glorious.
There is no way I'll run my next bike without one either. Whenever that purchase will be… I'm still on a 2013 Santa Cruz Bronson, and while I love this bike, it'd sure be nice to be able to upgrade to something newer. *stares longingly in bike shop window*
Cheap vs expensive chain guides
Look at any chain guide selection online or in your local bike shop and you'll immediately see that chain guides run from around USD$50 all the way up to USD$200, and beyond.
So what's the difference? If I am super happy with my basic OneUp chain guide, why would any one pay more?
Personally, I wouldn't pay more, but some people want more features (or more bling).
There are actually a few reasons for the more expensive price points out there, which are:
Carbon is involved. (Ah yes, save some weight, add some bling. At a cost of course.)
Bashguard is included. (More components, more cost.)
Some brands are just more expensive (and some riders are loyal to those brands.)
More complex designs. (Again, more components, material, and difficulty manufacturing = more cost.)
As mentioned, for me the most important benefits of a chain guide are that it is dependable, is easy to install, and preferably has a simple lowkey design.
And hey, if it's also cheap to buy, that's awesome.
That's why I've been so impressed by OneUp Components parts – they just seem to tick all the boxes, and their Top Chainguide V2 is no exception, which I wouldn't hesitate to recommend.
I hope this has been useful to you – may your riding always be free of dropped chains!